5 Mobile Games That Nailed Their In-App Purchase Pricing
Video games are expected to hit $180.1 billion in revenue in 2021, and a huge chunk of that pie belongs to mobile games. In fact, mobile game revenue is growing more quickly than console and PC platforms, with no signs of slowing down. On Android alone, 74 cents of every dollar spent in apps goes towards games, with 95% of those purchases coming from in-app purchases.
While paid games still have their places among the iOS and Android marketplaces, mobile gamers overwhelmingly prefer free games with in-app purchases. Even if the vast majority of players never spend a single cent in these games, the IAP economy can drive millions of dollars in revenue on a monthly basis — provided publishers are strategic in how they approach their pricing.
The following games, among them rising stars and established hits, are fantastic examples of IAP pricing strategy done right. Whether it's in-game currency, cosmetic items, or monthly subscriptions, these mobile titles have mastered the art of IAP monetization
Marvel Contest of Champions
What it does right:
Employs psychological pricing for daily bonuses

Promotes scarcity with timed offers

Targets specific segments with character bundles
Mobile gamers have been enjoying Marvel Contest of Champions since 2014, but it's still a top grossing mobile title year after year. In fact, the fighting game brought in $2.7 million on Black Friday 2019 alone, more than any other mobile title. Contest of Champions benefits from having a built-in fandom thanks to superheroes like Spider-man, Wolverine, and Captain America that keeps organic acquisition spiking any time a marvel film hits theatres. Part of the title's financial success however, is undoubtedly due to its smart IAP strategy.
Contest of Champions gives regular players lots of benefits that don't require them to spend a single penny, like rewards for checking back every four hours throughout the day. There's no pressure to spend and no pushy reminders. However, for those willing to drop a few bucks, the paid options are very enticing. There are timed offers that create a sense of urgency, daily bonuses for a one-time fee of $0.99, and character bundles that let players fill out their rosters with their personal favorites, like foul-mouthed assassin Deadpool. For daily deals like these, the 99-cent price point is a perfect example of effective psychological pricing. Six years is an eon in gamer time, so the fact that Contest of Champions continues to bring in millions in revenue month after month is a testament to its in-app purchase pricing strategy.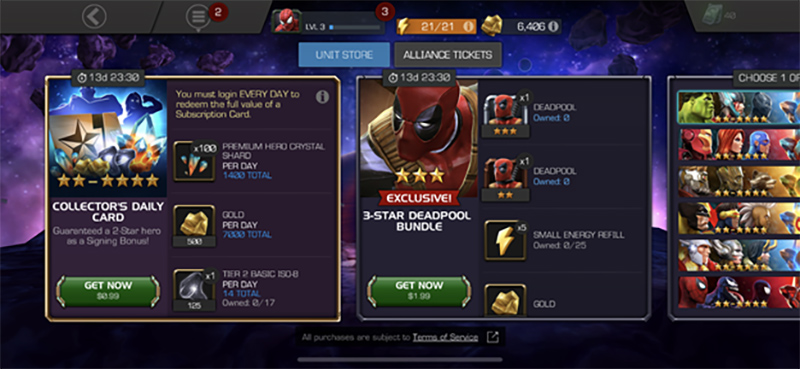 What it does right:
Avoids analysis paralysis with limited selection
Keeps IAPs outcome-oriented
Doesn't detract from overall experience
As one of the most popular publishers in the industry, Playrix is no stranger to mobile game success. Its most popular titles regularly garner millions of downloads — and millions in revenue — on a monthly basis, with most of its titles offering casual gameplay that helps players escape their everyday lives with mini-games and puzzles. Gardenscapes, the publisher's top-grossing title of August 2020, is no exception: players are tasked with cleaning and upgrading a fancy garden by playing rounds of the popular match-3 puzzle format. Despite its simplicity, Sensor Tower estimates that this free title raked in $26 million dollars last month alone.
So why are casual players so eager to spend? The brilliance of Gardenscape's in-game marketplace is that it's easy to access, simple to browse, and doesn't detract from the relaxing, engaging experience Playrix is so good at cultivating. It's evident that their bundles, like the Florist Kit and the Butler Kit, have been thoughtfully designed around gameplay archetypes to maximum contextual value. By keeping IAPs outcome-oriented and maintaining a limited selection, players avoid the analysis paralysis that can come when IAP storefronts are overloaded with options.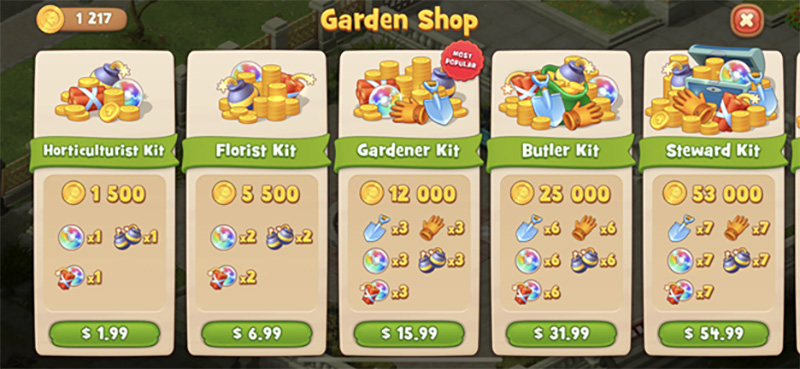 What it does right:
Fun cosmetic options
Smart bundles
Originally released in 2018, InnerSloth's multiplayer social deduction game Among Us reached unprecedented levels of growth in 2020 thanks to its sudden popularity among streamers. In August 2020 alone, Among Us was downloaded five million times, racking up $200,000 in revenue. It's been streamed, memed, and is now a frequent topic in gaming circles — not bad for a game that was off the grid just a couple of months ago.
Like many popular multiplayer games, Among Us offers a variety of cosmetic options to enhance the free-to-play experience. Players can express their personality with hats, pets, and skins, changing up their look with every round. For a game that offers so many hours of fun with friends, a few dollars is a negligible price to pay for more customization options. Even better, the in-game store offers bundles with multiple items for around $2-3 a pop.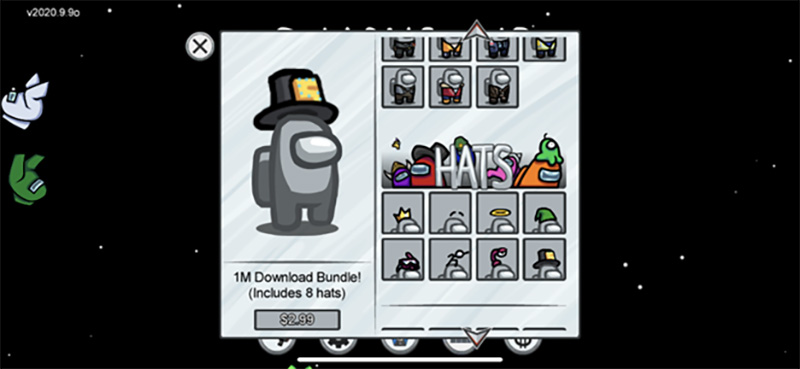 What it does right:
Offers free trials for subscription passes
Promotes scarcity with limited
Mario Kart is one of Nintendo's most successful and beloved franchises of all time, so it's not surprising that the mobile iteration regularly ranks among the top free apps in mobile marketplaces. Mario Kart Tour is an impressive touchscreen-friendly adaptation of the series' classic kart-racing gameplay, offering players the kind of high-quality first-party experience they've come to expect from Nintendo's games in a free-to-play package.
Never afraid of experimenting, Nintendo has employed some interesting IAP pricing strategies for Tour, with options ranging from around a buck to a figure you'd expect to pay for a full-fledged console game. There's something for everyone (and every type of spender), but the smartest options are subscription passes and limited deals. The $4.99 monthly pass, which starts with a two-week free trial, offers users regular benefits, and bonus items. The trial is an ideal hook for generating recurring revenue.
Meanwhile, much like in Marvel Contest of Champions, the limited-time and quantity offers create that all-important sense of urgency that drives spontaneous purchases. As we concluded in the In-App Purchase Pricing Guide, "Highlighting a limited-time offer is far more likely to attract user attention. By creating a feeling of scarcity, limited-time offers encourage new users to convert and assist in re-engaging lapsed users." This popular strategy paid off once again here: Mario Kart Tour pulled in $37.4 million in the first month after its September 2019 release, and still regularly garners millions of downloads (and revenue dollars) every month.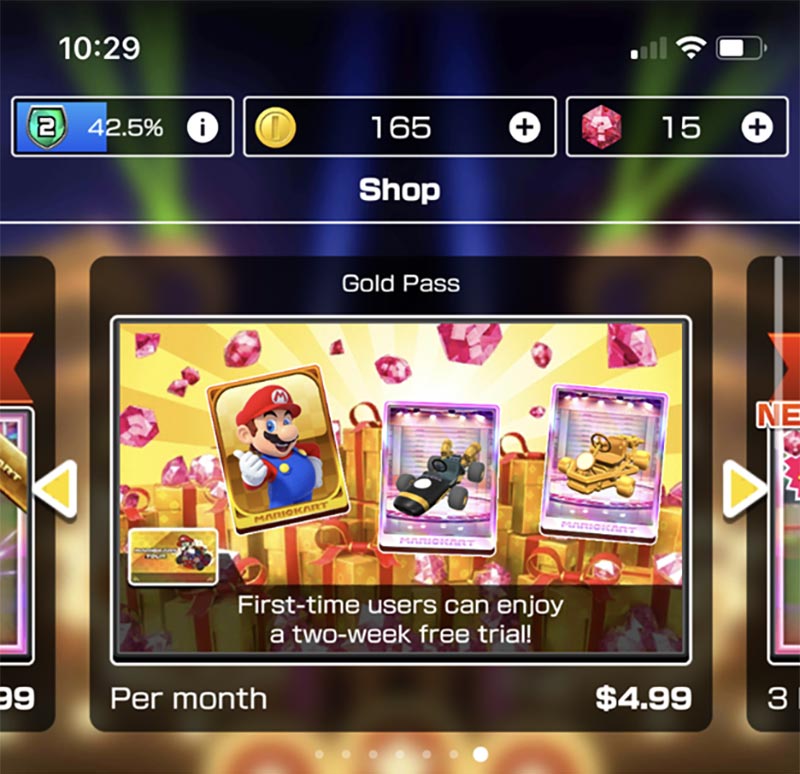 What it does right:
Employes decoy pricing
"Pass Royale" season pass
Creative bundles of in-app gems
The appropriately named Clash Royale is practically mobile game royalty. The addictive tower defense title generated an incredible $80 million in its first month on the market, going on to reach an estimated one billion dollars in its first year. Nearly five years later, Clash Royale is still going strong, with SensorTower data estimating a total of $5M in August 2019.
So what's the secret to Clash Royale's ongoing success? It doesn't hurt that both its publisher, Supercell, and its fans treat it like a AAA game despite being a free mobile title, and their IAP strategy reflects that. Clash Royale has tournaments, leagues, and even an esports presence. Its IAP pricing also follows competitive AAA trends, offering a $4.99 season pass known as the Pass Royale. This pass remains active for an entire season and unlocks a number of special perks and treasures for subscribers. Clash also features daily deals that require gems, the game's in-game currency, to unlock. Low on gems? No problem — you can exchange real money for them, with the storefront offering plenty of decoy pricing options to push players towards the ideal price point. Plus, it doesn't hurt that the gem store menu has eye-catching creative allowing players to purchase anywhere from "a handful" to "a mountain" of gems.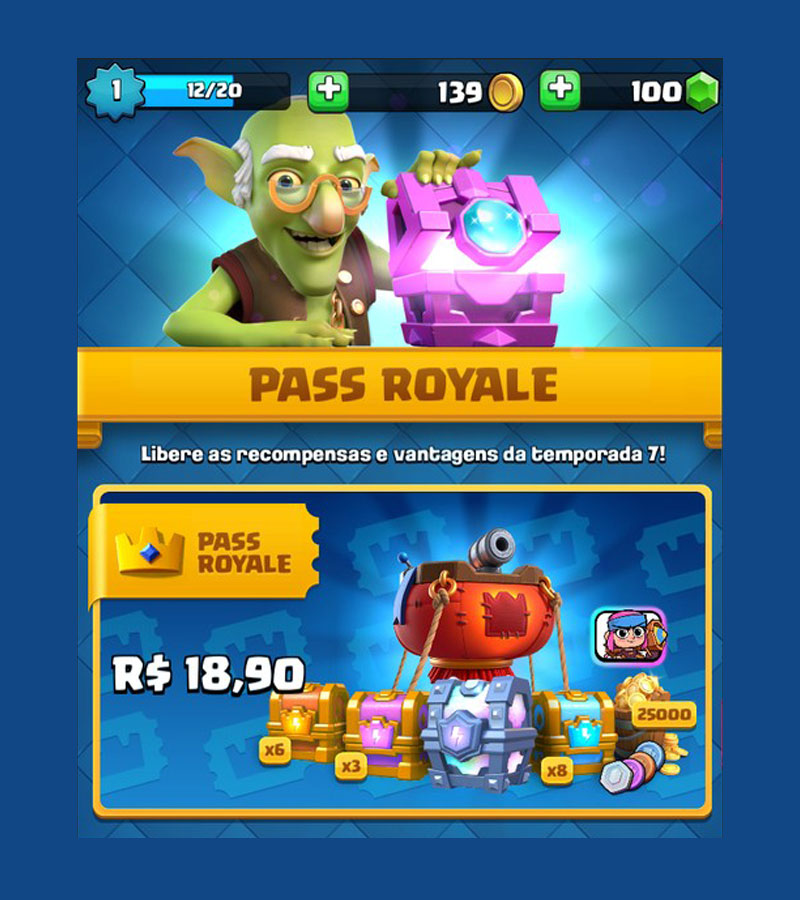 There's no surefire path to IAP success, but these five top mobile games have found it with some of the most reliable pricing strategies in use today executed perfectly.  By offering bundles, limited-time choices, and subscription passes, you can show players the value of your in-app purchase options and hit those revenue goals.
For more ways to maximize IAP revenue, contact the experts at wappier.