In today's world, a one-size-fits-all payment strategy doesn't work. App users pay more for in-app purchases when the economic and psychological conditions are right. Ted Verani, vice president of global business development, wappier, shares a few key pricing lessons for app developers.
In 2010, William Poundstone explored the history of marketing psychology and found that one-size-fits-all pricing was a myth. "Marketers and salespeople knew too well that what a customer was willing to pay was changeable," he wrote, "and that there was money to be made from that fact." As a result, retail sales catalogs and newspaper flyers offered targeted discounts to customers, increasing sales in volume and transaction size.
Mobile app developers can learn a great deal from the history of commercial pricing optimization. By calculating and predicting a user's willingness to complete in-app purchases, apps can offer personalized promotions that increase revenue. More importantly, developers can predict a user's lifetime value and automatically adjust engagement strategies on a moment-to-moment basis. It starts with understanding the varied nature of your customers.
Summary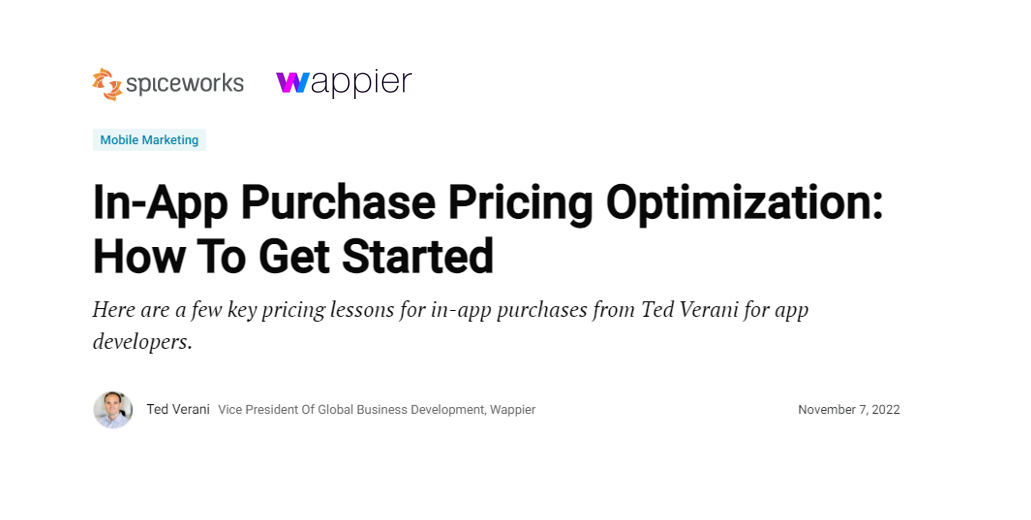 Article Name
wappier Releases In-App Purchase Pricing Optimization: How To Get Started, Available Now
Description
Here are a few key pricing lessons for in-app purchases from Ted Verani for app developers.
Author